2019 Holiday Gift Guide
Dec 6th 2019
As the festive season approaches, the DIA Shop is delighted to announce the 2019 Holiday Gift Guide, presented in six vignettes, each with one artwork (available through DIA Custom Prints) providing the palette for each color-story.
From art-inspired apparel to museum-quality jewelry, coffee table books and deluxe edition games; from award winning gifts for kids to handcrafted treasures, customized wall art and quirky stocking stuffers, there are presents to treat everyone on your list.
SOFT HUES FROM A WINTER SCENE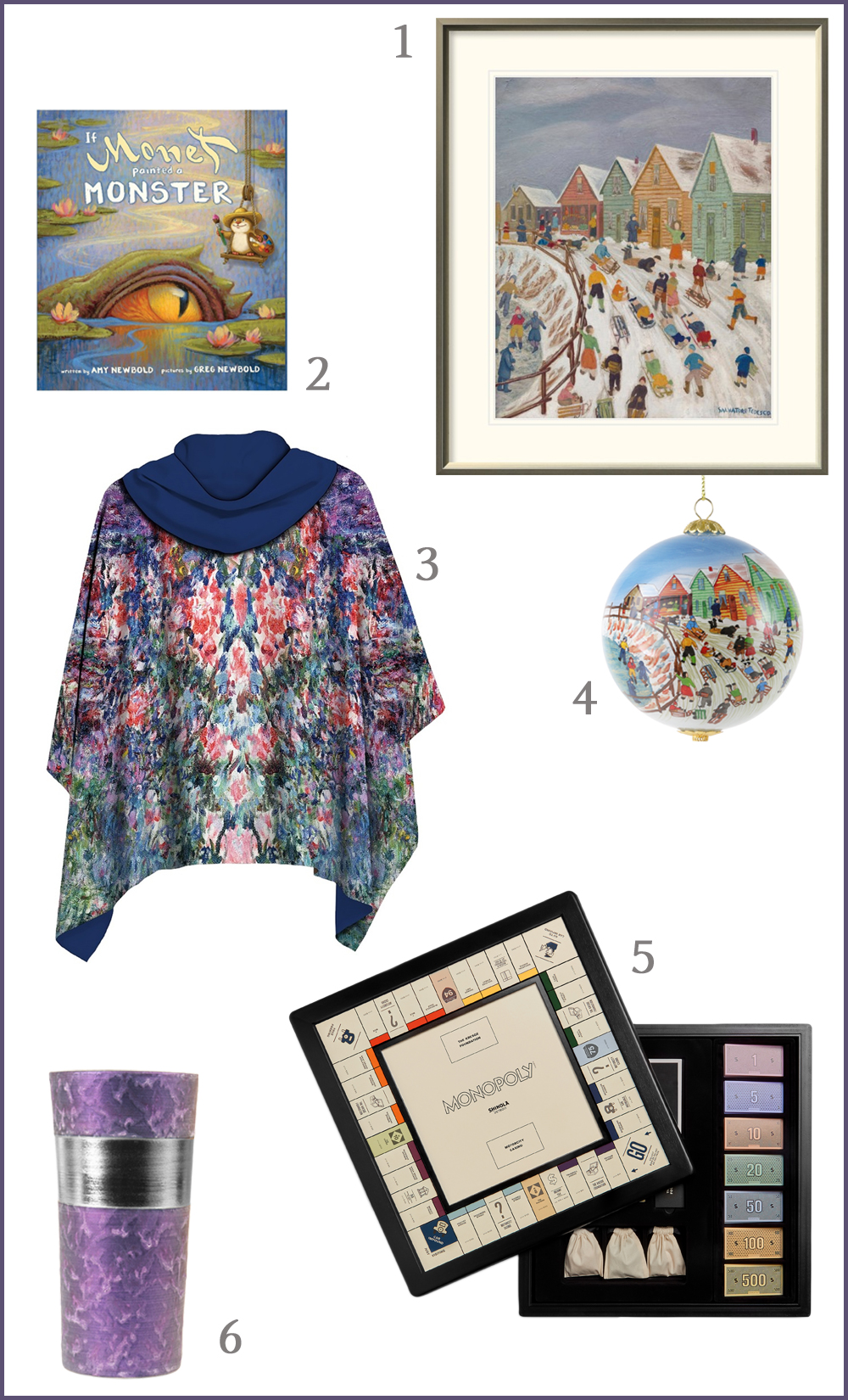 1. Giovanni Tedesco's "Winter Scene" is available in three sizes, on paper or canvas, with the option of framing in a variety of styles. Visit DIA Custom Prints to create your own masterpiece to take home or gift to someone special.
2. A new child-friendly tour of art history, "If Monet Painted a Monster" contains gorgeous illustrations, touching on works by Edward Hopper, Dorothea Tanning, Paul Cezanne and others. A great gift, not only for kids, but for all lovers of art and art history.
3. Lightweight, water repellent and wrinkle-proof, this rain cape is must for travelers and anyone who hates getting caught out by an unexpected storm. Adorned with Monet's vision of his rose garden, it is one of six available patterns.
4. Inspired by Giovanni Tedesco's "Winter Scene", the hand-painted limited-edition collectible ornament is the fourth in a series of ornaments inspired by art in the collection.
5. Thoughtfully designed and beautifully built, Monopoly®: Shinola Detroit Edition pays homage to a city with a robust history and culture. Every detail is impeccably produced.
6. Made individually by hand in Japan by a studio steeped in centuries-old traditions, the Purple Lin Platinum Tumbler represents years of experimentation and innovation in an entirely new style that marvels and delights.
BLACK AND WHITE (WITH A HINT OF RED) IN HARD BALL III
7. A favorite in the DIA's collection, Robert Moskowitz' "Hard Ball III" is available from the DIA Shop in a standard size (with optional frame). Or, visit DIA Custom Prints to configure your own bespoke reproduction, shipped worldwide within 2 weeks.
8. Large Red Ribbon Earrings in translucent Lucite® make a bold statement this holiday season. Perfectly suited for work or play, pair these with a casual look or your favorite party frock.
9. In 100% silk and expertly woven, the Victor Silk Tie is the perfect accessory for the holiday season. Dressy, but more festive than more traditional neckwear, the DIA Shop's new assortment of art-inspired ties is not to be missed.
10. Hand-loomed and fair-trade alpaca wool, known as the "fiber of the gods" is stronger than mohair, smoother than silk, and finer than cashmere. Suitable for men or women, the Graphite Alpaca Scarf is one of seven available colors ranging from brights to neutrals.
11. In classic black and white, the Couture Bracelet by Patricia Locke is the epitome of timeless elegance. With Austrian crystals cast in pewter and dipped in sterling silver, this little treasure is sure to be cherished.
12. This contemporary black and white Chess Set gleams in translucent Lucite, elevating game night to a ritzy affair. Worthy of display as a beautifully designed objet d'art, impromptu games are sure to break out, among novice and seasoned chess players alike.
A RIOT OF COLOR IN ROUNDED FLOWER BED
13. Monet's "Rounded Flower Bed" is one of the DIA's most beloved paintings. Now available as a made-to-order reproduction, find your version at DIA Custom Prints.
14. The Colorevolution Watch is more than just a clever play on words. Every revolution of the minute hand reveals a surprisingly beautiful new color palette to make time pass by in the most captivating way. Suitable for men or women.
15. Rich and opulent, the Rainbow Necklace is composed of multicolored marbleized pressed glass cubes along with Swarovski® crystals, Polaris and Cat Eye cubes, with 24-karat gold plated disks and stainless steel cylinders. This versatile piece goes with everything!
16. Piece by piece, sticker by sticker, the most famous face in art history comes alive, including the enigmatic smile. A compelling activity for crafters and artists, Paint by Sticker Masterpieces are filled in like a mosaic. Not only do you get to make these famous images, but in the act of doing so you will see them afresh.
17. It's easy and fun to invent countless creative creatures with the Plasticine Character Creator kit! Create colorful shapes, stick in the mix-and-match character pieces, and play away! Perfect for kids ages five and up.
18. Perfect for household projects, bicycle repair and any odd job you'd like to tackle with flair, you won't mind doing a little DIY with this functional and fun Rainbow Multi-Tool.
19. Beautifully hand-embroidered with iconic designs representing our beloved city, the Detroit Landmarks Pillow makes a touching gift for all who call Detroit "home", whether living near or far.
BLACK AND GOLD AND GREEN AND BLUE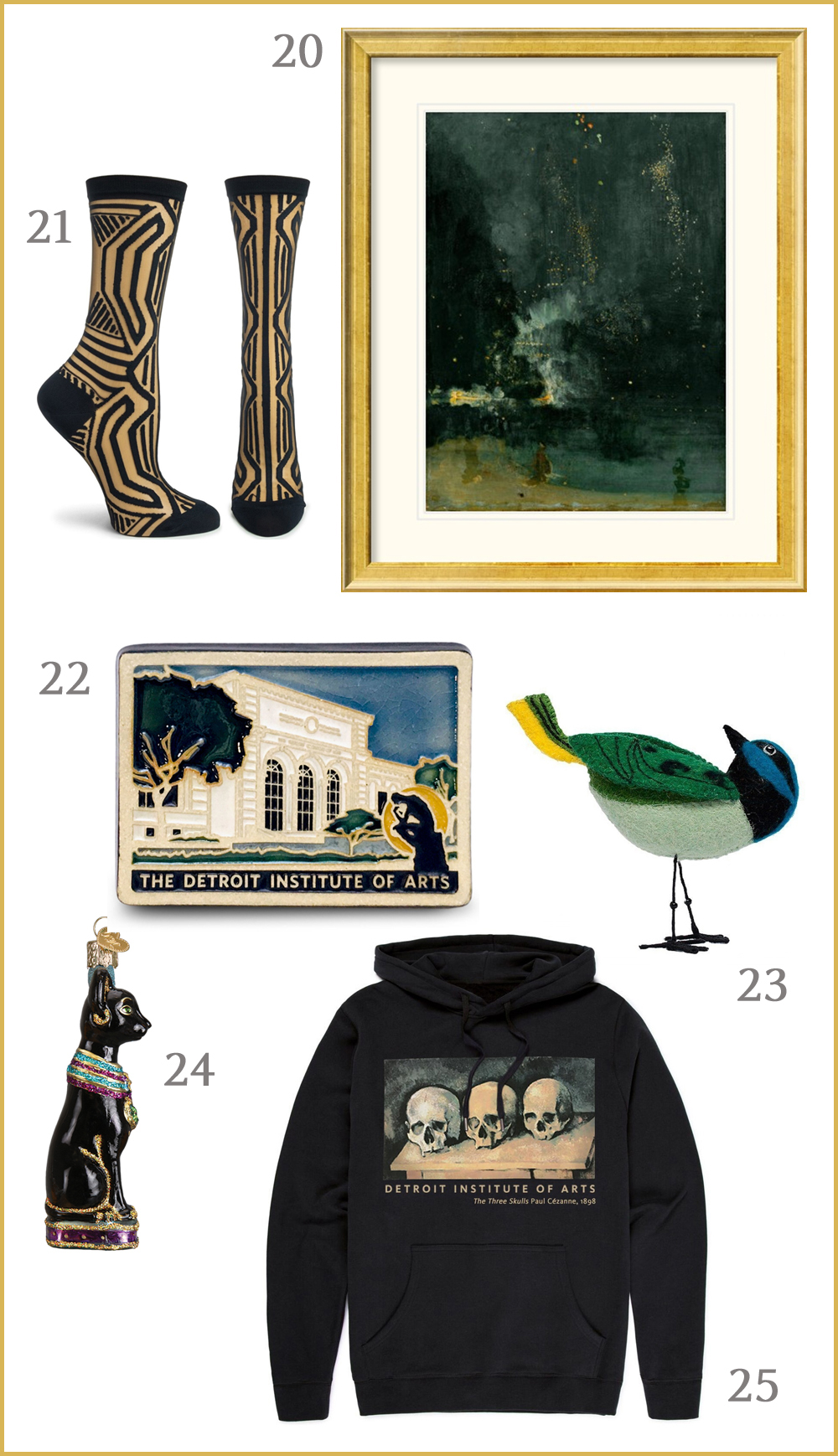 20. Powerful and compelling, Whistler's "Nockturne in Black and Gold" is available to custom order from the DIA Custom Prints program, online or through our in-store kiosk. Custom reproductions ship within two weeks.
21. Geometric forms inspired Frank Lloyd Wright, and the design for these sheer and knit socks are based on the office of retailer Edgar J. Kaufmann.
22. Created through a partnership between the Detroit Institute of Arts and Pewabic Pottery, the special-edition DIA Postcard Tile pays homage to two iconic Detroit institutions.
23. Charley Harper's enchanting birds take on new dimensions as they emerge as adorable Felt Figures perfect for perching on a shelf, or adding to a tree or wreath.
24. Embodying the cat-goddess, this mouth-blown, hand painted Egyptian Cat Ornament is hand-made in Germany .
25. This black hoodie featuring Cezanne's "The Three Skulls" is a cool way to stay warm this winter.
FIERY ORANGE AND DEEP BLUE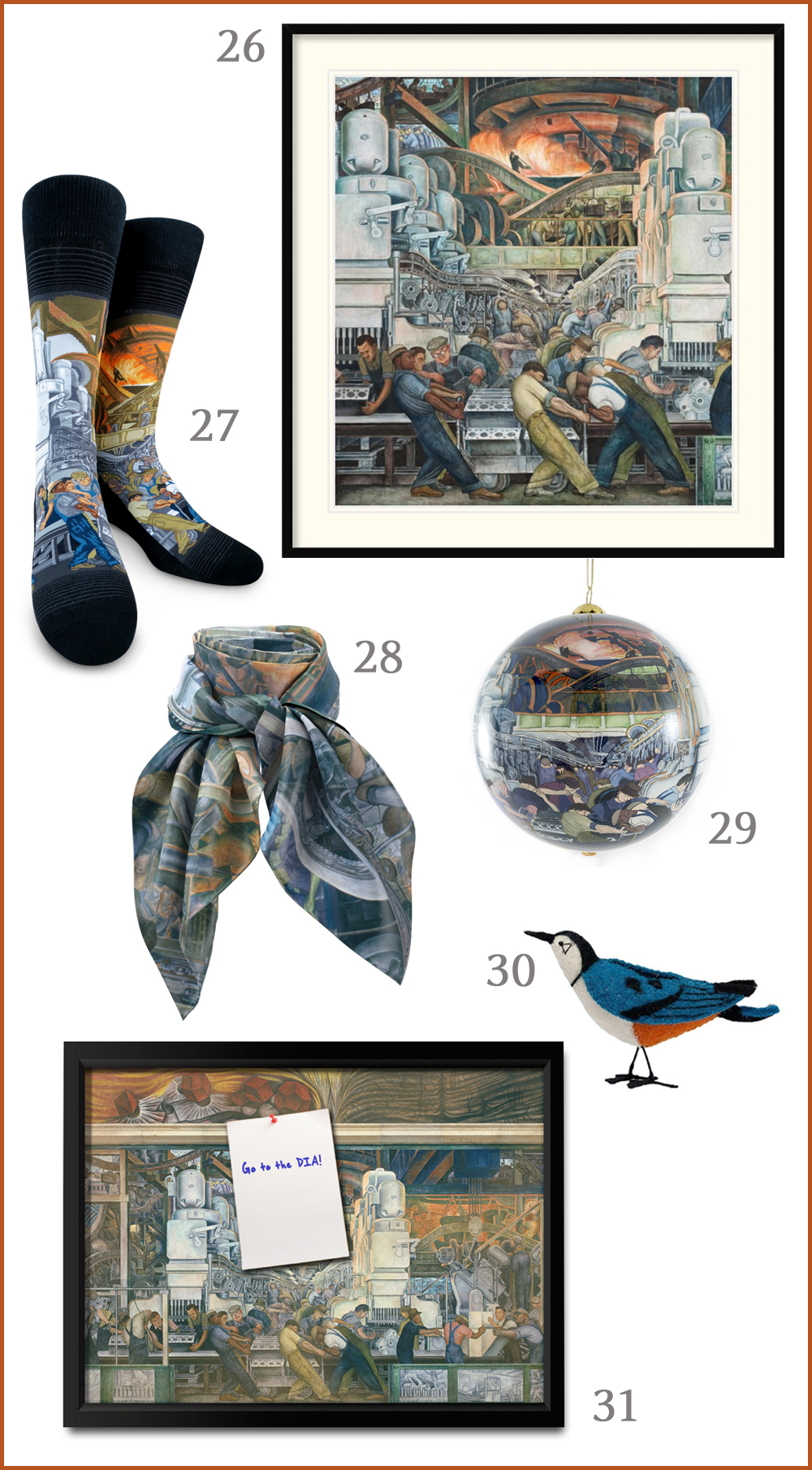 26. Known as the "Furnace Detail" this crop from Diego Rivera's Detroit Industry fresco cycle is among the most popular, as it encapsulates the essence of the production from the blast furnace in the background to the men working in the forground. Order your own customized reproduction from DIA Custom Prints by choosing the perfect size, style and finish for your home or office, or give as a gift to the hard-working individuals in your life.
27. You'll want to stock up on the DIA's own Detroit Industry North Wall Socks to gift to friends and family who've been awed by Diego Rivera's powerful murals.
28. Beautifully reproduced with amazing detail, the Detroit Industry Silk Scarf features the major panel of the North Wall. Also available in poly, and part of a collection of scarves representing the DIA's most iconic works of art.
29. Inspired by Diego Rivera's Detroit Industry murals, this hand-painted ornament is a one-of-a-kind memento based on the North Wall of the famed frescoes at the Detroit Institute of Arts.
30. We couldn't help but add this colorful Charley Harper felt bird to the group. In blue and orange, the Nuthatch Figure looks cute perched on a wreath, or anywhere your home could use a feathered friend.
31. A great addition to any workspace or home office, this large corkboard featuring Diego Rivera's North Wall reminds us that hard work is its own reward.
EARTH TONES IN NATURAL HUES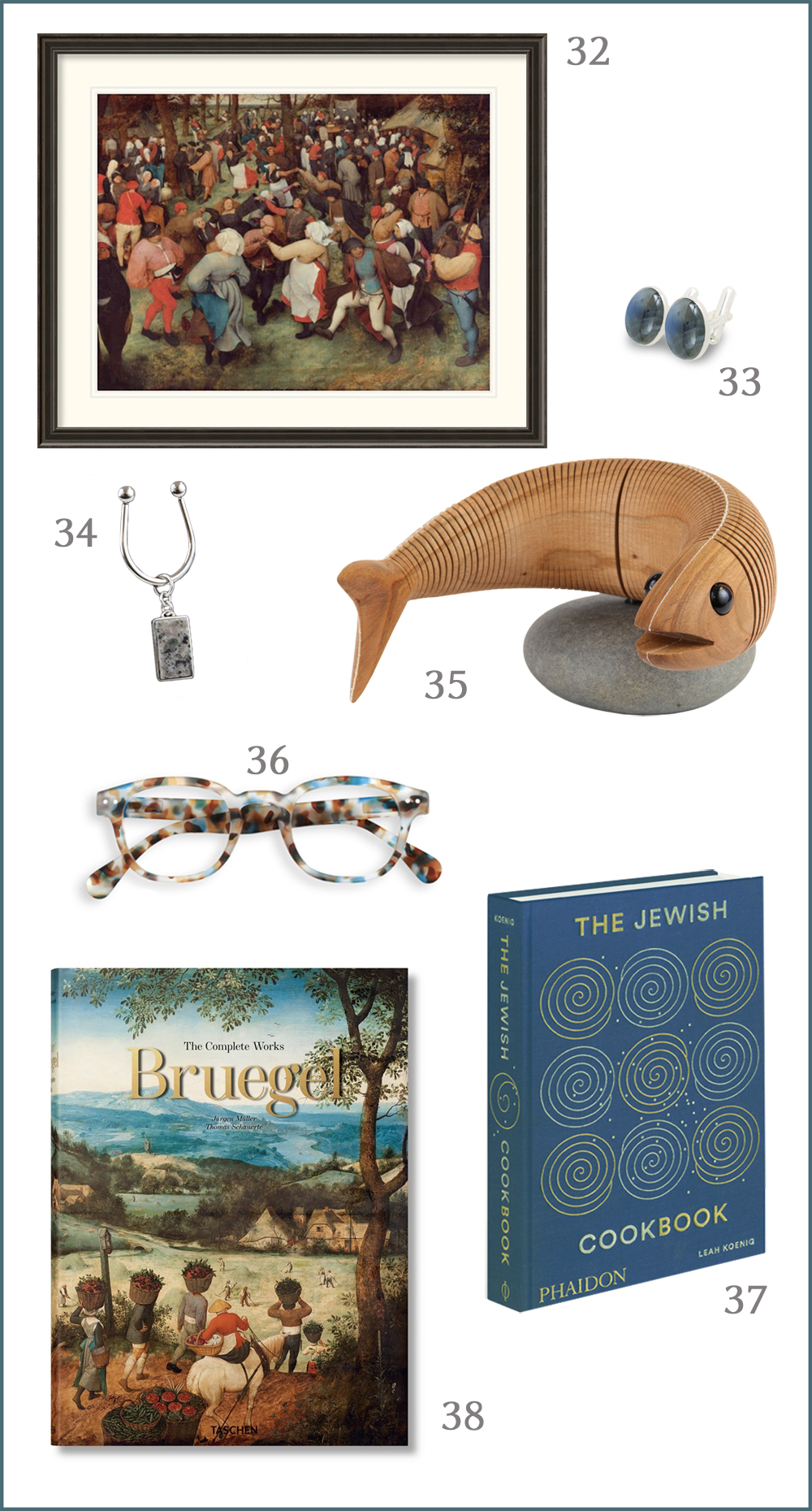 32. Pieter Bruegel the Elder's The Wedding Dance is available as a bespoke reproduction, made to your specification with DIA Custom Prints. Orders ship within two weeks, perfect for gift giving or gussying up your home in time for the holidays.
33. Hand-crafted in Nova Scotia, these polished Labradorite Cuff Links are suited for special occasions, such as weddings or business meetings.
34. Gift an authentic piece of the DIA with the DIA Granite Keychain. The stone material was removed during the 2018 renovation, making way for the completion of the Robert and Katherine Jacobs Asian Wing. Limited and absolutely unique!
35. Hand-crafted and very clever, this Kinetic Cherry Fish Sculpture swivels on its axis when you touch its head or tail. A delightful interactive sculpture that invites you to give it a little nudge as you pass by.
36. Elevate your style with these well-designed reading glasses. The Blue Tortoise Reading Glasses are just one of a five frames to choose from. Available in +1 to +3 magnification.
37. Traditional and contemporary dishes presented in a beautiful volume of recipes with enticing photography makes The Jewish Cookbook a wonderful gift for any home cook.
38. This lavishly illustrated over-sized tome, "Bruegel, The Complete Works" the ultimate coffee-table book for fine-art afficionados.